What would you fight for? What would you fight against? These monumental questions were raised in the small hallways of The Drake before an anarchical display of the past. A collage of colored post-its guided playgoers, guiding them with beliefs, passions and fears into a small theatre where their beliefs were about to be challenged.
Marcus/Emma was a riveting and speech-laden play that paired two prominent figures in American History: Marcus Garvey, an activist for Black Nationalism and Pan-Africanism; and Emma Goldman, anarchist, feminist, and communist. Neither took their first breaths on American soil and both were exiled before they each took their last.
Both hiding from persecution, Goldman and Garvey coincidentally choose the same room and are left alone with only with their convictions, passions and frustrations. The two volley rhetoric similar to what is read about in history books and learned in lectures, but what translates from the pages to the stage is the innate humanity found inside each revolutionary.
The two characters use their passion for politics to enliven the play. They spout their beliefs and dreams of anarchy and a safe passage to Africa, and in the same breath exhilarate of the sensuality found in power. With the close proximity of Goldman and Garvey, heat was bound to generate between the two creating a sexual layer to the complexity of their political rallies. There is a fast rotation between talking, teasing, preaching, coitus, daydreaming, and the angst of reality.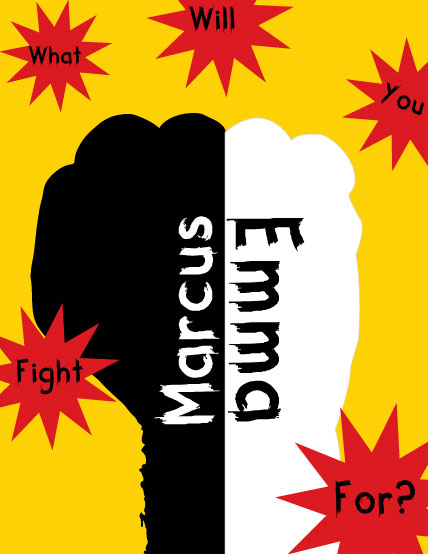 Susan Riley Stevens delivered Goldman with a seamless cohesion of serious cause and satirical self-inflection. She moved an entire audience with her hair-tearing, knee-buckling monologue in one scene, and then had them crying with laughter from behind a table as she made her labia into a talking puppet.
The juxtaposition of this Goldman with Akeem Davis's portrayal of Garvey set a tone that entranced the audience. While Goldman prided herself on inducing riots in the streets, Garvey was appalled at the notion of violence and destruction. His desire to 'beat them at their own game' perplexed Goldman. His dreamlike soliloquy of a safe passage back to Africa created a somber air that quelled the pulsations Goldman generated.
Goldman addresses the audience, calling them slaves and asking them to rise with her and create anarchy. Garvey scoffs at this notion, hysterically laughing when Goldman retorts, "Not everything is about race."
The dynamic between these two radiate power of the mind, passion, and sensuality. Humorous attempts by Goldman are made to seduce Garvey, and Garvey is repulsed by her physicality but succumbs to her potent appetite for the cause.
Marcus/Emma was infused with strong outbursts and quiet reflection, many of which were performed when one of the actors was semi or fully nude. The pairing of sexual passion with political fervor made for a fiery setting.
As history provides the ultimate spoiler, the deaths of these two protagonists find commonalities at each of their demise. Despite dichotomies of their beliefs and values, Marcus/Emma created an eternal bond between the two historical figures. It will have you rooting for anarchy and constructive change all in the same passionate breath.